Real Estate Settlements
Summary of Seller's Transaction
(left hand side of page 1)
Section 400: gross amount due to seller
Line 401: Contract Sales Price
The full purchase price as stated in the Contract.
Line 402: Personal Property
The purchase price of any personal property contracted to be purchased in the conveyance.
Lines 404 – 412: Adjustments for Items Paid by Seller in Advance
The Buyer reimburses the Seller for taxes, special assessments, homeowners' dues or other charges that the Seller has paid in advance. The adjustment is typically from the date of settlement to the end of the fiscal period.
Section 500: reductions in amount due to seller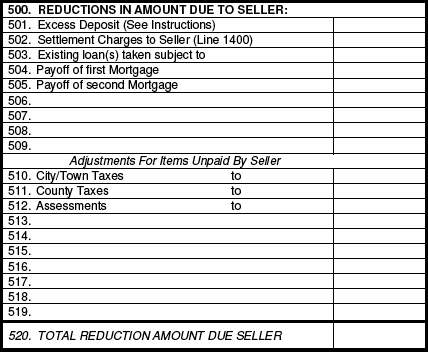 Line 502: Settlement Charges to Seller
Seller's total settlement charges, carried over from page 2, line 1400.
Line 503: Existing Loan(s) taken Subject to
On assumptions or wrap loans, the outstanding principal balance of the Seller's loan which is being assumed by the Buyer.
Lines 504 – 505: Payoff of First and Second Mortgages
The costs include:
Outstanding principal balance of loan

Interest from the date of the last payment due date through the date the Lender receives the payoff check (typically 2 – 3 days after settlement)

Release fee, if required by lender
Note 1: FHA payoffs may include interest through the end of the month in which the loan will be paid.
Note2: Many Lenders release the balance in the Seller's escrow account after the loan has been paid and satisfied. The Lender will usually forward the escrow funds directly to the Seller within 30 to 45 days after settlement. In some cases, the Lender will simply deduct the escrow funds from the payoff amount such that no refund will be necessary.
Line 506: Deposit or earnest Money
All monies deposited by the Buyer in good faith, to be applied against the purchase price of the property. Typically, the broker, or Seller's real estate agent holds the Buyer's deposit and it is applied toward the payment of the commission due from the Seller. (see Line 703).
Line 510 – 519: Adjustment for items Unpaid by Seller
Typically, the Buyer is responsible for paying all bills received after closing. It is here that the Seller reimburses the Buyer for those charges he incurred but did not pay, such as water and sewer. The Buyer is credited for the period from the last payment due date through the date of settlement.