Real Estate Settlements
Summary of Borrower's Transaction
(left hand side of page 1)
Section 100: Gross Amount due from borrower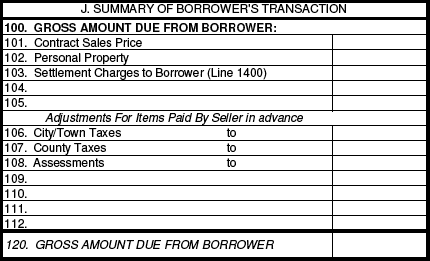 Line 101: Contract Sales Price
The full purchase price as stated in the Contract.
Line 102: Personal Property
The purchase price of any personal property contracted to be purchased in the conveyance.
Line 103: Settlement Charges to Borrower
Buyer's total settlement charges, carried over from page 2, line 1400.
Lines 106 - 112: Adjustments for Items Paid by Seller in Advance
The Buyer reimburses the Seller for taxes, condo fees, special assessments, homeowner' dues or other charges that the Seller has paid in advance. The adjustment is typically from the date of settlement to the end of the fiscal period. Should be mirror image of Lines 406 – 412 on Seller's side of settlement statement.
Section 200: amounts paid by or on behalf of borrower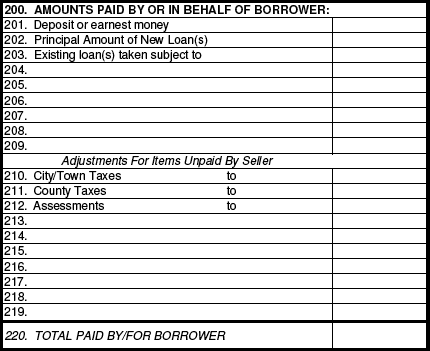 Line 201: Deposit or Earnest Money
All monies deposited by the Buyer in good faith, to be applied against the purchase price of the property.
Line 202: Principal Amount of New Loan(s)
The amount of the Buyer's new loan(s).
Line 203: Existing Loan(s) Taken Subject To
On assumptions or wrap loans, the outstanding principal balance of the Seller's loan which is being assumed by the Buyer.
Lines 210-219: Adjustments for Items Unpaid by Seller
Typically, the Buyer is responsible for paying all bills received after closing. It is here that the Seller reimburses the Buyer for those charges he incurred but did not pay, such as water and sewer charges. The Buyer is credited for the period from the last payment due date through the date of settlement.
Section 300: cash at settlement from/to borrower

This section reconciles the amounts due from the borrower (from Section 100) against the amounts paid by or on the behalf of the borrower (from Section 200) in order to determine the amount, if any, of additional funds are required by the Borrower to close or to be refunded to Borrower